Moriba Cummings
4 August 2022
Our team is dedicated to finding and telling you more about the products and deals we love. If you love them too and decide to purchase through the links below, we may receive a commission. Pricing and availability are subject to change.
First things first — if you are still using your TV's native speakers as your primary audio output source, you're missing out! No matter your television's brand or model, it's a universal standard that they all emit low-quality audio that discredits the full viewing experience.
Chances are you're already familiar with JBL's reputation as one of the leading brands in the wireless speaker space. From the cult-favorite JBL Flip 5 to the super compact and portable JBL Clip 4, the brand is known for its high-quality and extremely affordable speakers.
However, many still don't know that JBL is also one of the leading soundbar brands, with its 2.0 Channel All-in-One Soundbar being one of its most popular releases to date.
In case you're unfamiliar, here's how soundbars work.
Soundbars provide a richer, more robust sound output from your TV and usually come in a variety of "channels," indicated in decimal format. For example, the "2.0" in the JBL Bar 2.0 Channel All-in-One Soundbar refers to the number of channels and subwoofers included in the soundbar.
So, for this device, the number before the dot refers to the left and right speakers (two), and the number after refers to the number of subwoofers (zero).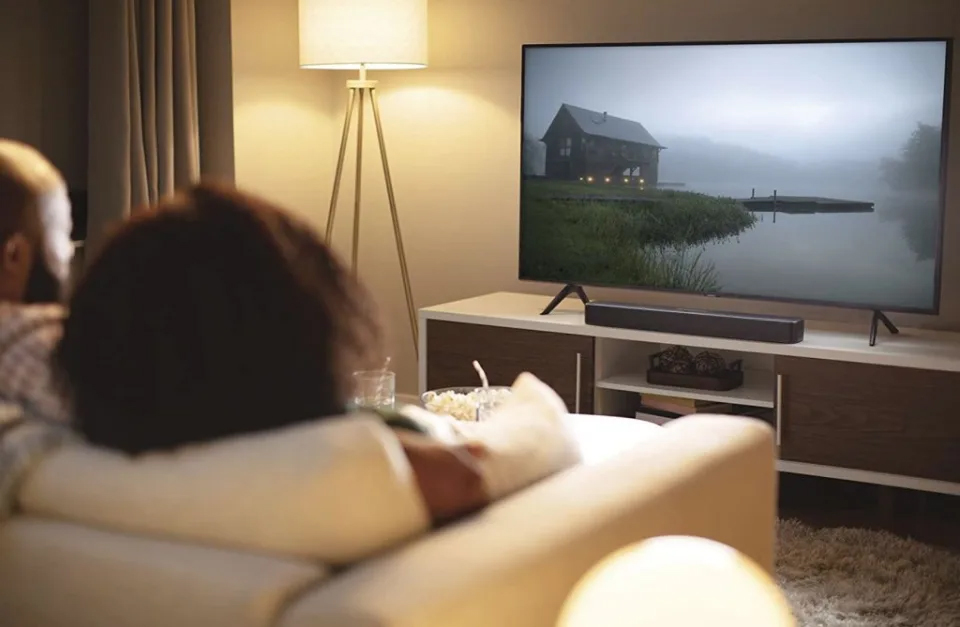 Currently on sale for $50 off its initial retail price, the JBL Bar 2.0 Channel All-in-One Soundbar provides instant immersive sound to make movies and TV shows come to life.
You can also wirelessly stream music with the built-in Bluetooth feature included in this soundbar. And, for added convenience, it works with your TV's remote control.
With over 350 five-star reviews, this JBL soundbar is a customer favorite on Amazon, with hundreds saying it's the best in its price range.
Shoppers love this device's compact design, simple setup and functionality, and ability to instantly turn their living rooms into a movie theater.